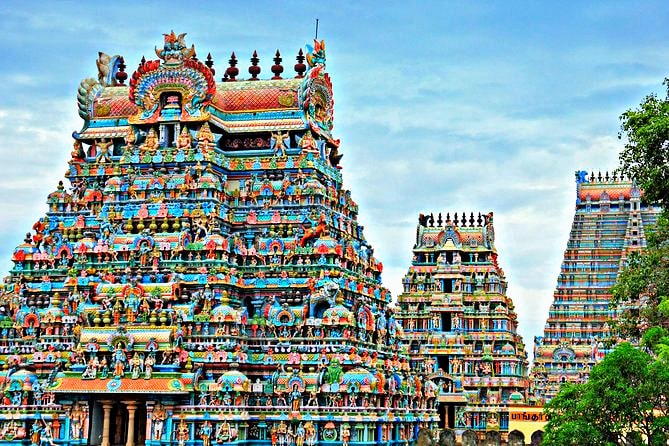 The Kapaleeswarar Temple in Chennai has a history that dates back centuries, and it is believed to have been originally located near the sea-shore. According to many folklore, the Kapaleeshwarar temple was located close to the sea at Chennai, Tamil Nadu. This was destroyed by the invaders and the present temple was built by the Vijayanagara kings during the 16th century. The temple was built in the Dravidian style of architecture and is a fine example of the Dravidian architectural works. Legend has it that Goddess Parvathi in the form of a peacock worshipped Lord Shiva in this place. Hence, the area came to be called as "Mylapore" as "Mayil" in Tamil means peacock.
In his hymns, Thirugnana Sambandar, one of the 63 Nayanmars described the Kapaleeswarar Temple and its location near the sea-shore in Mylapore, Chennai. His writings provide valuable historical and cultural insights into the temple's significance and its earlier proximity to the sea.
History of Poombavai and Thirugnana Sambandar at Mylai Kapaleeswarar Temple, Mylapore
Sivanesar Chettiar a devotee of Lord Shiva who has heard about the glorious Thirugnana Sambandar, wanted to marry his daughter Poombavai to Thirugnana Sambandar. But Poombavai was bitten by a snake and died when plucking flowers. Sivanesar kept her bones and ashes in a pot and waited for the arrival of Thirugnanasambandar. On hearing that Thirugnanasambandar had come to Mylapore, Sivanesar took the pot to Thirugnanasambandar and told him about the incident. On hearing about Poompavai, Sambandar asked the ashes to be brought to the gopuram of Mylai Kapaleeswarar Temple.
Thirugnanasambandar sang verses, and each verse mention the various festival of the temple asking Poombavai how she could go away without witnessing them.
மட்டிட்ட புன்னையங்கானல் மடமயிலைக்
கட்டிட்டங்கொண்டான் கபாலீச்சரமமர்ந்தான்
ஒட்டிட்டபண்பினுருத்திர பல்கணத்தார்க்கு
அட்டிட்டல் காணாதே போதியோ பூம்பாவாய்