There are seven Sapthasthana (Saptha meaning seven) temples for Shiva in Mylapore worshipped by the Saptha rishis – Adri, Brigu, Kutsa, Vashishta, Gautama, Kasyapa and Angirasa. Originally they were all part of a single temple but in due course they have become separate temples. It is highly powerful to worship all the seven deities in a single trip.
More details on the Sapthasthana temples: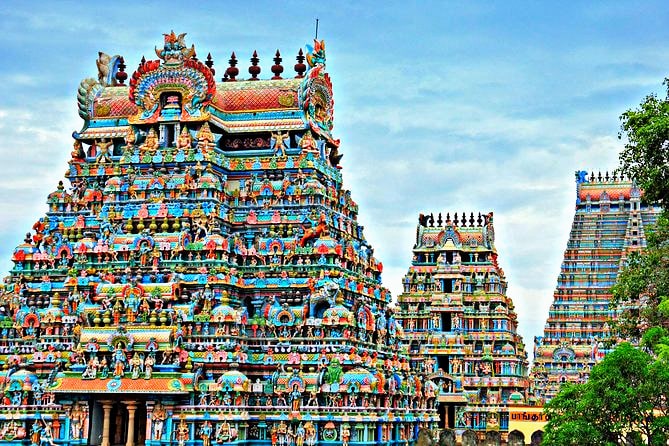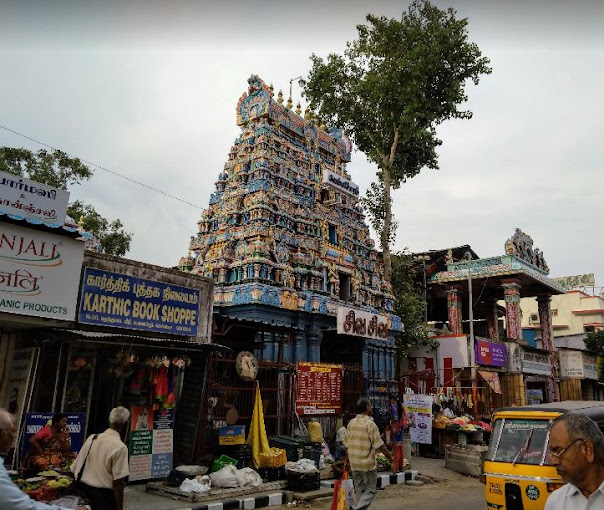 KapaleeswararTemple: Worshipped by Sage Kasyapar, this is the most popular of the Sapthasthana temples. This is one of the 275 Thevara Padal Petra Sthalams; out of these, this is one of the 40 temples that have west facing Shiva shrines. The original temple was located near the sea but got submerged in the sea and the current temple was built around 350 years back. Parvathi Devi worshipped Shiva here in the form of Peacock. The 63 Nayanmar festival is highly popular.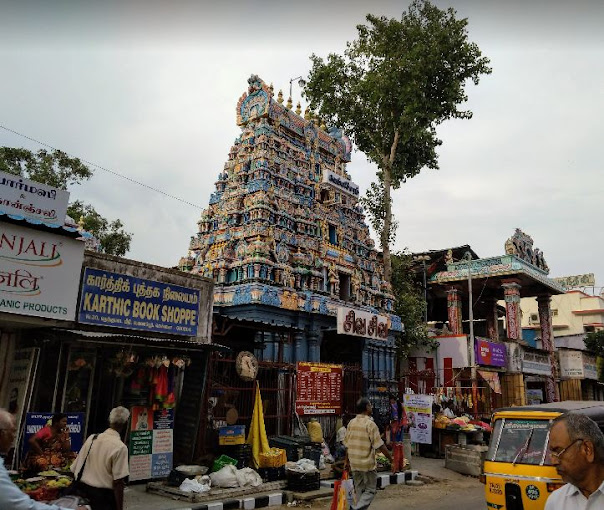 Sri Valleeswarar Temple: Worshipped by Sage Angeerasa, this temple is located at the South Mada street very close to the Kapaleeswarar temple. The legend has it that Asura Guru Sukracharyar worshipped Shiva here in order to regain his vision.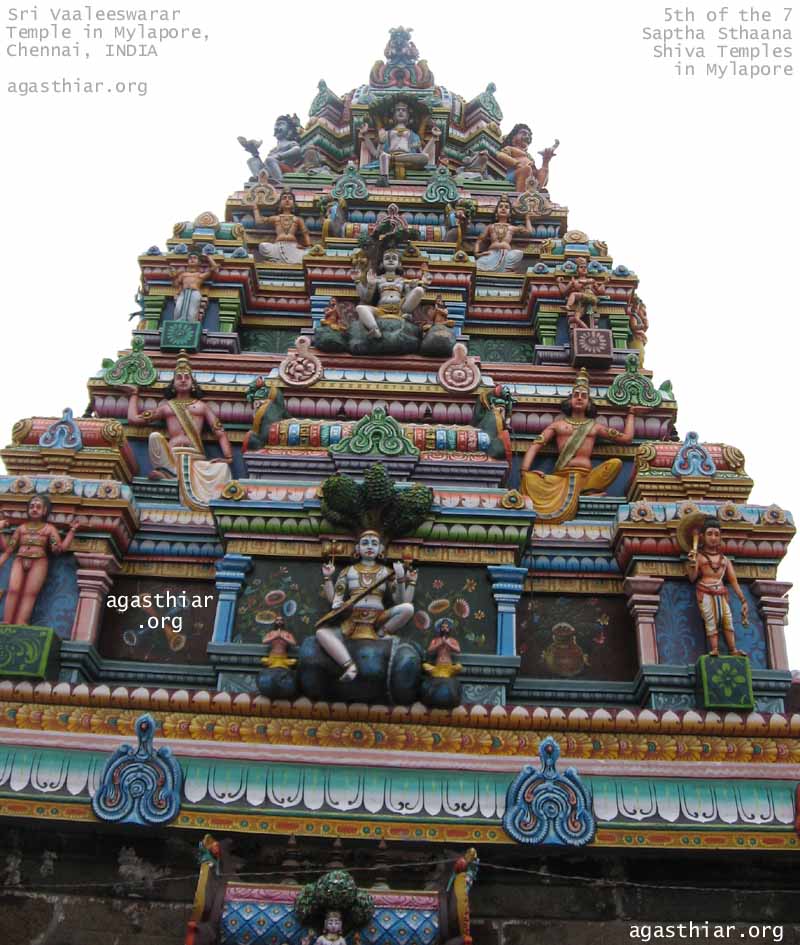 Sri Vaaliswarar Temple: Worshipped by Sage Gautama, this 2000 years old temple is located at Gopathy Narayana Chetty Street opposite to Kolavizhiamman Temple. Vaali got all his powers after his tapas towards Easwaran here. Pancha lingams came out from the earth as seen in a separate shrine which is an appropriate place for meditation. There are shrines for Vinayahar, Natarajar, Goddess Sivahami, Murugar with Valli and Deivanai, Chandeeswar, Anjaneyar, Vishnu, Durgai, and Ayyappan. Navagrahas with their respective vahanas and Saneeswarar separately are present in different shrines. In the Southwest of the outer praharam, a lizard has been carved out to indicate that this is a Parihara sthalam.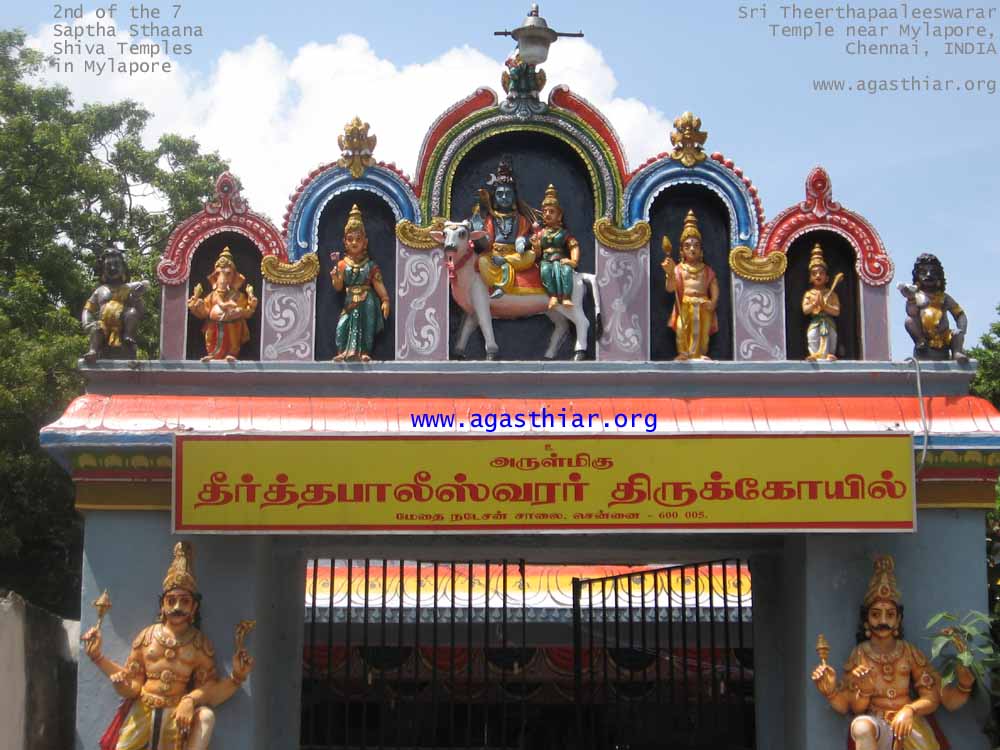 Sri Theerthapaleeswarar Temple: Worshipped by Sage Athri, this temple is located in the Dr.Natesan street of Krishnapet, Triplicane Mirsahib market area opposite to mosque. The temple has significance that when the seven deities of the Sapthasthana temples take bath in the sea during the Theerthavari festival in the tamil month of Masi, this deity takes the first place. Sage Agasthiar worshipped Shiva here.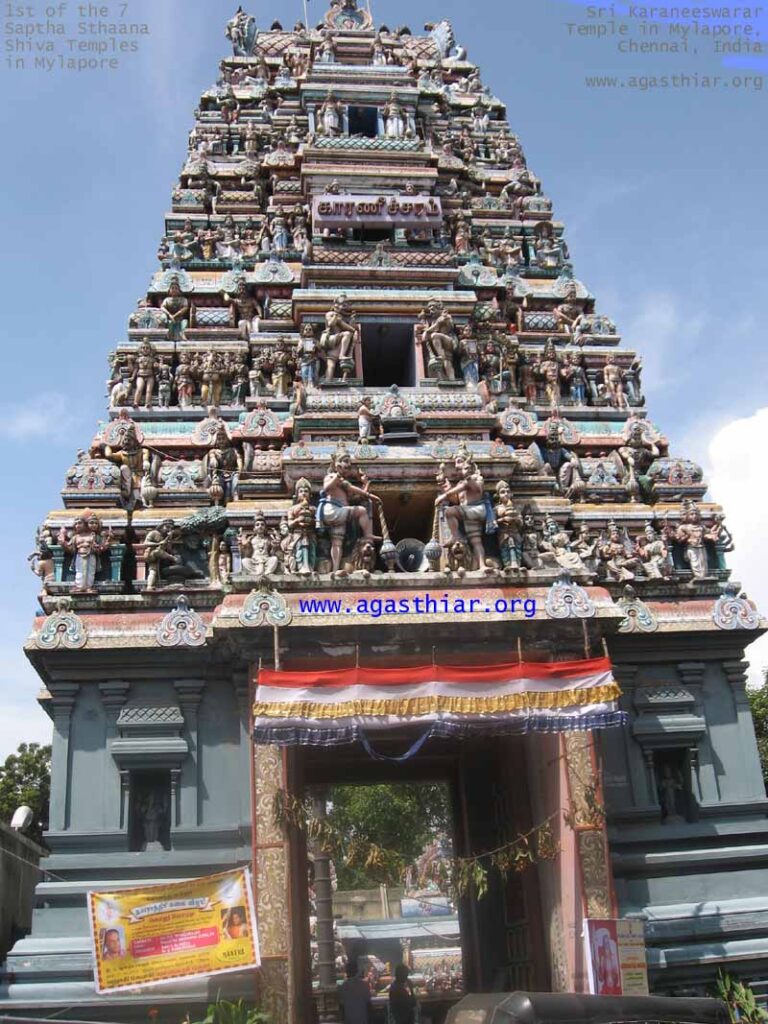 Sri Karaneeswarar Temple: Worshipped by Sage Vasishta, this 12th century temple is located in the Bazaar street of Karaneeswararpet. The Shivalingam here is in square shape as seen in only Thirukkadaiyur and Kalahasthi. Since Shiva is the 'reason' for everything, He is called Karaneeswarar (Karanam in Tamil means reason).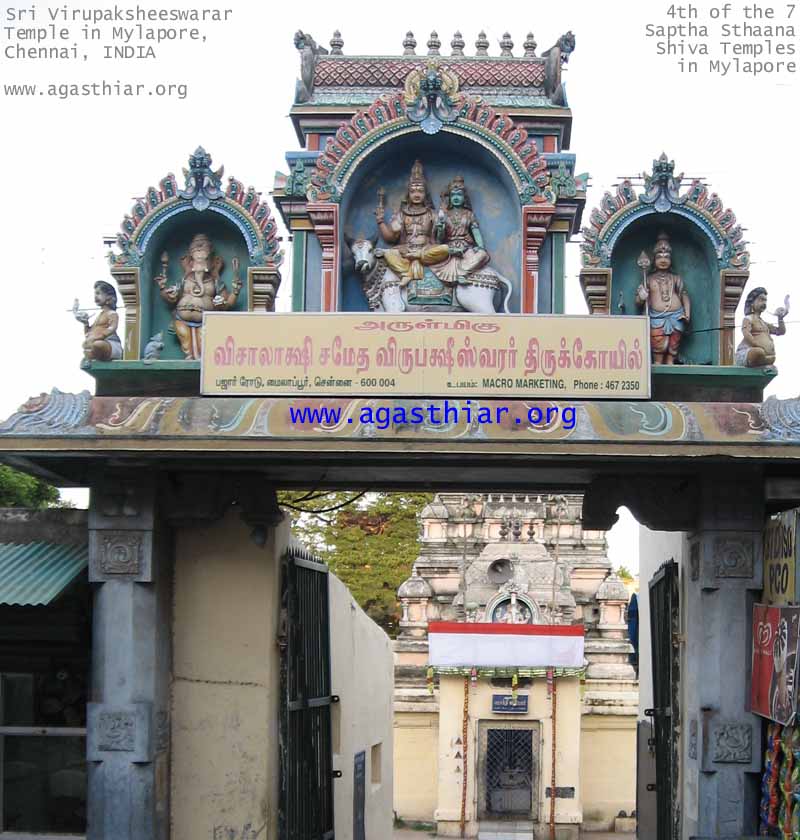 Sri Virupaksheeswarar Temple: Worshipped by Sage Kutsa, this is the oldest temple of Mylapore and is near Karaneeswara temple and Mundakkanni Amman temple. Sivanesan Chettiar, who built this temple, had a daughter called Poompavai and when she died, Thirugnana Sambandhar brought her back from her burnt bones. 'Viroopam' means 'Contradicting the Nature' and since Shiva's third eye contradicts nature, He is called Virupaksheeswarar.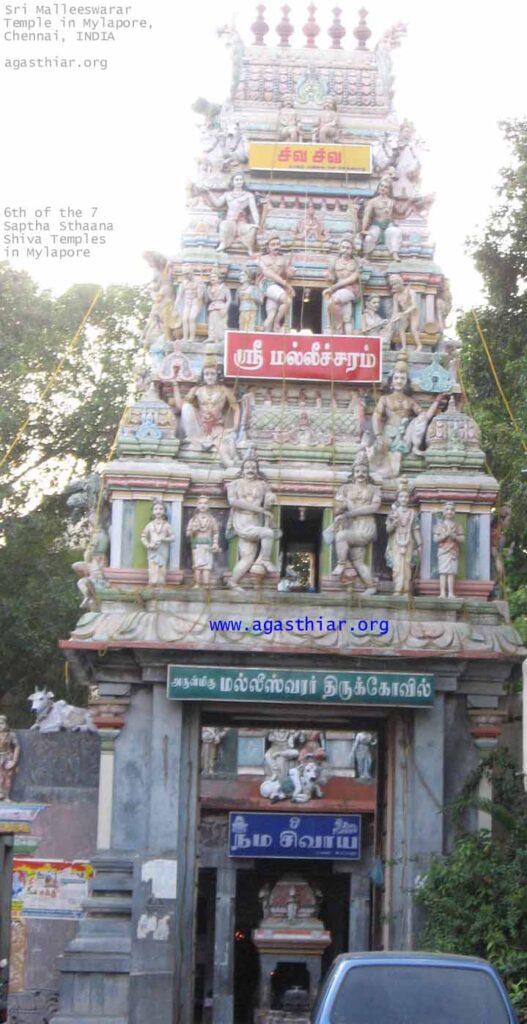 Thanks to Within Chennai – Raju's Temple Visits (wordpress.com) for the info on the sapthasthana temples
Thanks to Agasthiar.org for the images