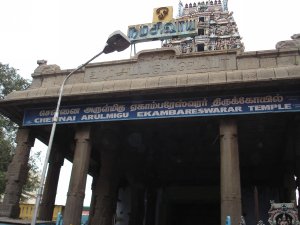 Ekambareswarar Temple, Chennai is a Hindu temple situated in the neighbourhood of Parry's corner (George Town), Chennai, India dedicated to Lord Shiva. It was constructed by Alanganatha Pillai, chief merchant of the Madras factory of the British East India Company.
The Ekambareswarar Temple is located in Mint Street, Sowcarpet, Chennai and is flanked by two Jain  shrines and Kandaswami Temple. The Ekambareswarar Temple was constructed by Alanganatha Pillai, a dubash in the service of the British East India Company in the 1680s. The temple is marked in a 1710 map of Madras city as "Allingall's Pagoda.
Long time back, an ardent devotee of Lord Shiva at the Ekambareswarar temple in Kanchipuram wanted to go to the temple on the auspicious pradhosham day, he had faced stumbling blocks in visiting that temple. Moreover, his employer also refused to allow him to go to the temple. Despite all these obstacles, he could still visit the temple, but on his way back he became very tired and took rest in a holy place. During that moment, The Lord Shiva and his consort Ambal appeared in front of him and told him not to come such a long distance to worship him. I am here as a Suyambu in the place wherever you took rest. Hereafter you can worship me here itself. That how the temple was built!
As per the legend, it is believed that those afflicted by the Planet Saniswaran, if they worship this Lord they will be relieved of this misery. Besides, if the afflicted person offers an abhishekam with senthooram (saffron powder) and adorn Him with betel leaves garland, their fear will be vanish and life will become calm and peaceful. Also, if there are problems between the brothers in a family, by conducting milk abhishekam and fruits, the problems will be solved!
The temple is considered equivalent to Kanchi Ekambareswarar temple. It is one of the three temples that were popular even before the arrival of the British. The Navagraha shrine here is considered one of the most sacred shrines in the city. This temple is considered as one of the Pancha Bootha Sthalams of Chennai. This temple represents one of the five elements Earth!